Les Coloriés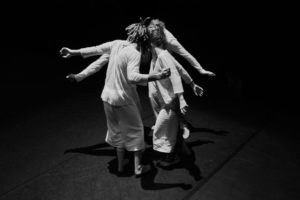 To have a glad heart

Jump into the present moment

Meet each other.

Live together in a burst of vitality that floods bodies and hearts.

Feel the collective effort.
To support.

To enjoy and celebrate the joy of being in the world.

Les Coloriés are four dancers who try to reveal the urgency to act to defend the living.

They take everything and surrender to a feeling of fullness that invades the body and mind. A sensation that opens in a strange mix of power and sweetness.

They make benevolence an obvious necessity. The four performers let grow the power of a collective joy brought by the realization of joint efforts.
---
Dazaïn
The term Dazain comes from a German philosophical word "Desein" which is a principle that speaks of the subject of existence.

During the creation of this show, Toufik Maadi wanted to trace the soloist's career. The story of a woman, a dancer and a child who has learned to use her strengths and weaknesses to make a way that she alone will define.
Her life course is treated by the strength of her will to exist. Existing in your eyes, in his eyes, simply existing… A journey that immerses us in the life of this particular being filled with pitfalls, joys, and questions. It carries us crescendo in a struggle against herself, against her principles, as if to free herself from a system.
Dazaïn is a dance show designed as a live performance around three disciplines: dance, video, music. New technologies have been treated as a reflection of his inner path. Her emotions are translated by a human gesture mixing contemporary dance and hip-hop dance, but also materialized by digital visual and sound tools.

The exponential advance of new technologies leads us to reflect on our conception of the real and the virtual. Here, the dancer is projected into an augmented reality that confronts her with all her Being.